It was cloudy yesterday so I was pretty sure it would be a cool morning. I got out there at 5:45, and it was perfectly cool and breezy. In fact, as I started my second mile, I thought, I'm going to run 4 miles! But I always think that, after I get over the initial "Why am I doing this to myself," as I settle into a good rhythm with my breathing and pace. And then I as finish up my requisite 3rd mile, I'll change my mind. Today though, I felt great. I went for it. I ran 4 miles in just over 42min, which is the most I've ran at once since completing the half marathon. Then, as I walked home, I passed a tall, lean middle-aged man who was getting ready to run and he said "Congratulations, keep it up!"
Here I am, once I got home this morning, in all my trappings that keep me running as I close in on 9mo's of pregnancy: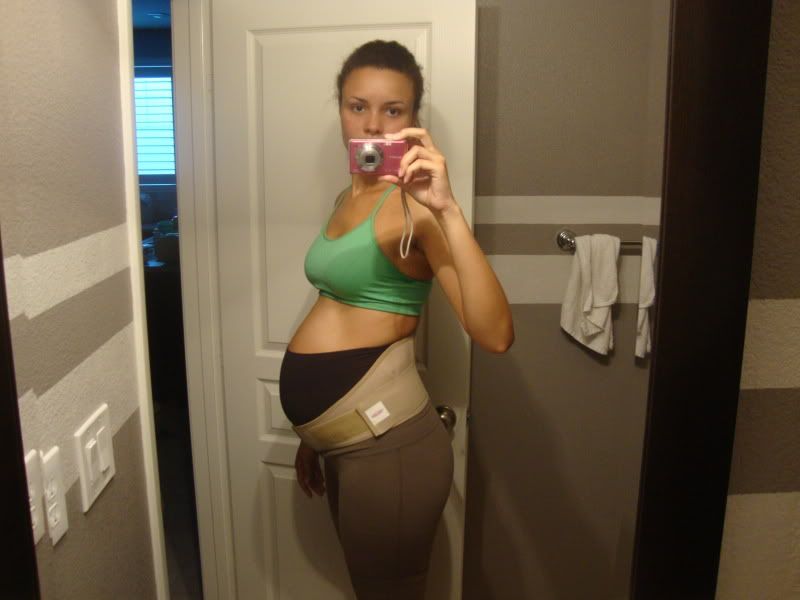 You're thinking, "Certainly, once this get-up no longer does the trick, she'll stop running until the baby's born." You're wrong. There's still duct tape ;)
ETA: While I thought I previously used mapmyrun to determine my usual route to be 3mi, I just did it again and found out that it's only 2.5! And what I thought was 4mi today, was only 3.4. Buzzkill!